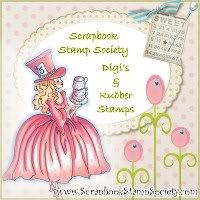 I created this bookmark for the ATS Wednesday Stamp Release and ATS Challenge Blog - theme; Pink.
The digital image is Steampunk Dark Angel by the fantabulous Mitzi Sato-Wiuf.
This is the RIGHT side of the counter sample. Paint the other side. :)
I started with a 5x21/2 inch counter sample. Paint the 'unfinished' side.
I painted it pink with DecoArt Misty Mauve, mixed with Golden Interference Orange (Fine).
Cover with a layer of Plaid Mod Podge - Gloss finish.
I decoupaged scraps of 7gypsies paper, patterned cloth tape, other tissue paper, and a piece of rope.
Cover with layer of ModPodge
I added the coloured digi and also decoupaged it.
Let dry
Adhere words and hardware with Mod Podge.
Dab word segments with pink and brown Hybrid inks (like Palette) - because I felt the white background was too stark.
Finally, I attached a piece of jewellery/hardware that was attached to one of my daughter's old tops.
Daughter: "Mom, this top can be donated"
Me: " Heck no! First let me rip that skull and crossbones off that top!"
Daughter: 'MOM! What are you doing???!!!
Me: "I'm sure I'll be able to find SOMEWHERE to use it".
End Scene. :)
It makes a great tassel/end for the bookmark and can be detached.
Here is where you can find the digi stamp: Addicted to Stamps
For the Challenge Blog:
Scrapbook Stamp Society Challenge Blog
Thanks for stopping by,
~Robi